Why Repair my playground surface myself?
Because it will save you a lot of money. Most poured in place contractors do not like to travel to repair a few holes or gaps. We know that because we are contractors ourselves. Our playground rubber repair kits are designed for ease of use and to quickly solve a small problem before it turns into a big one later. Pre-measured amounts of Rubber granules and binder are shipped to you to patch existing holes or gaps in your rubber surface. Most of the time, it is the wear layer of the poured in place system that needs to be patched. But sometimes, the impact attenuation layer (base or buffings layer) also needs to be repaired. We offer a poured in place repair patch kit for both situations. We also offer the expertise and the hand holding necessary for you to use these kits effectively. All you have to do is call us at: 203-659-0456, e-mail us at: info@trassig.com or even text us at: 203-200-7881. We usually get back to you within minutes of getting your message. You can include pictures of the damage you have and we'll advise you on the best way to repair it.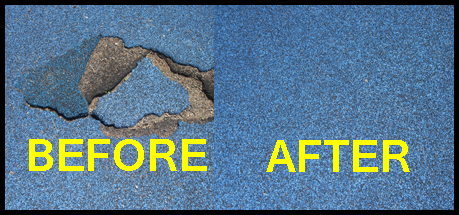 What layer am I repairing?
Repairing the wear layer of your playground surface:
Most commonly, only the wear layer (EPDM) will need patching. This is the top layer that is typically one or two colors (as shown above). Although, some systems have an all-black wear layer on their playground poured in place surfacing. The standard depth of the wear layer in 1/2". Our wear layer poured in place rubber repair kits cover approximately 5 square feet at a standard depth of 1/2". Your patch kit will Contain the EPDM granules in the color combination you requested, a pre-measured amount of binder as well as an easy-to-follow instruction sheet. You can order one solid color or mix two colors to closely match your playground surface. (example: black and green.) We offer 12 color options: Black, white, beige, light blue, dark blue, bright green, dark green, Terra-cotta red, grey, purple, teal, and orange. We will also mix custom colors on request.
Repairing the base layer of your playground surface:
If the damage is extensive or deep, the impact attenuation layer (base, or buffings layer) may also need to be patched. Both layers are patched in the same fashion. It is important to recognize which layer is in need of repair. Depending on the critical fall height of the playground system the depth of the impact attenuation layer (base layer) varies. Our base layer poured in place rubber repair kits cover approximately 5 square feet at a depth of 1". Each kit contains 12.5 pounds of SBR buffings and 2 pounds of Aromatic Binder.
For Larger Repairs:
We now offer Jumbo Patch Kits for larger fixes in both the wear layer and base layer.
These Jumbo Patch Kits come with enough material to fix approximately 20 sq ft of surface. These kits get larger fixes done more efficiently while ensuring you save time and money in the process.
Repairing gaps in your playground surface:
Sometimes, you are not repairing the surface at all. You are filling the gap that appears on your rubber surface due to the rubber shrinking. This is more prevalent in colder climates. The gap is sometimes three inches wide and can create a tripping hazard for the kids. What we usually recommend in a situation like this is to remove all the debris that is usually lodged in the gap, whether it is dirt, leaves, or little branches, using our base layer repair kit to fill the gap and leave about half an inch to grade. You can then use the color of your choice to fill the rest and match your surfacing color as best as you can.
Poured in Patch Kit Color Options
We carry a wide variety of playground specific EPDM granules to be used as the wear layer of poured in place installations. Our EPDM granules have UV stabilizers to protect against fading over time. Please see the table below for available colors. Click on the color you need to buy your poured in place rubber patch kit online Now.
Standard Patch Kits

Jumbo Patch Kits
If you would like a custom combination or a combination that is not seen here, please feel free to contact us at 203-659-0456 or at info@trassig.com.