A primer on playground Rubber Surface Maintenance and Top Seal
Poured in place rubber surfaces, especially playground rubber flooring, like any other surface have to be maintained for optimal performance. In addition to cleaning and sanitizing the surface, a top sealant or conditioner must be applied once in a while to keep the surface healthy.  UV rays degrade the polyurethane binders used to hold the EPDM or TPV granules together during the initial install. Over time, these binders simply have to be replenished. If they are not, foot traffic will dislodge them, and holes and cracks will appear, leading to an eventual system failure, where you have to replace the entire wear layer, or in some cases the base layer as well. This can be very costly. Top sealing ensures your rubber surface is rejuvenated with these essential binders. When using rebinder, playground rubber flooring maintenance or any other type of rubber flooring maintenance becomes much easier and fewer steps.
How do I know when to top seal my rubber playground surface
Look at the playground surface record. Has your poured in place ever been sealed? How old is it? If it has never been sealed and it's over 5 years. It's probably time to seal it.
If you don't have access to records, we tell our clients to do the "shuffle test". If you shuffle your feet on the surface and you notice that there are lose granules, it is time to seal your surface.
How often you have to seal or condition your playground rubber surface ultimately has to do with how much sun and traffic it gets.
What is special about the Rebinder?
Each 5 gallon pail covers up to 1,200 sf* of poured in place rubber. That's 30 cents per square foot
It is environmentally friendly
The Rebinder is clear so it will not change the color of the surface. The Rebinder B will temporarily amber brighter surfaces.
It is the only product we know of that will not harden your surface
It is very easy to use. If you have painted a surface before you can apply it
* The coverage will depend on how your poured in surface was installed and if it had been top sealed before. If you have never maintained the surface you should expect the 5 gallon pail to cover anywhere between 800 to 1300 square feet.
A note of Caution: Beware of playground rubber surface maintenance products that have to be diluted with acetone and xyline. Beside being detrimental to the environment, those tend to harden the surface and alter the impact attenuation properties of the rubber.

How to top seal your playground rubber surface
You will need the following materials:
leaf blower, (power washer)
tarp
paddle mixer
drip pan
paint roller
Look for a sunny day above 60 degrees. If it is going to rain within four hours after applying, do not rebind.
Step 1: Use a leaf blower to remove loose granulated rubber and other debris from area. If necessary, use a power washer with a wide angle nozzle and binder friendly detergent to sanitize the surface. Make sure your surface is COMPLETELY dry before continuing. Check under equipment for possible excess water and moisture
Step 2: Lay down a tarp to avoid splashing and use a paddle mixer to thourghly mix the Rebinder (TM) in the pail before use. It is necessary to mix Rebinder (TM) before use.
Step 3: Pour Rebinder (TM) into drip pan. Do not mix with other products or solvents.
Step 4: Use a cheap paint roller to equally distribute Rebinder (TM) on your poured in place surface because you will be throwing it away after installation.
Step 5: Apply pressure when applying Rebinder (TM) in order to make sure the coat is even and sufficient. Go over each area only one time. Do not treat Rebinder (TM) like paint. Multiple layers will harden your surface.
Step 6: Even though Trassig's Rebinder (TM) is fast curing, secure area and allow 24 hours before use after application. If it rains 4 hours or more after application the Rebinder (TM) will not be affected, but it cannot rain during the application of the Rebinder (TM) for it to properly cure.
Watch the following video to see how easy it is to apply our rubber surface conditioner.
How to order the rebinder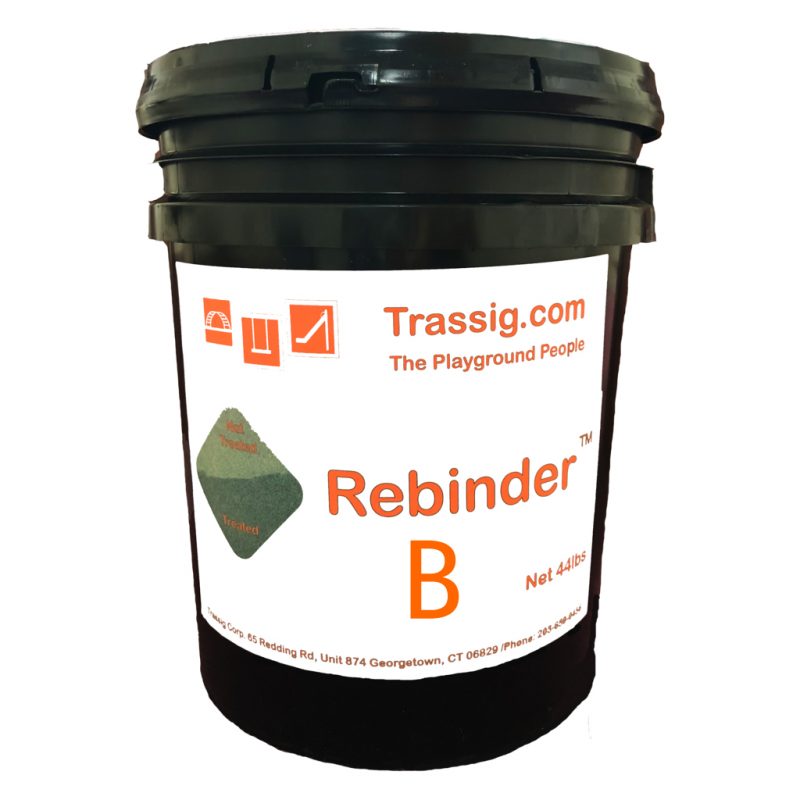 BUY NOW 
($380.00 – 25 cents per SF)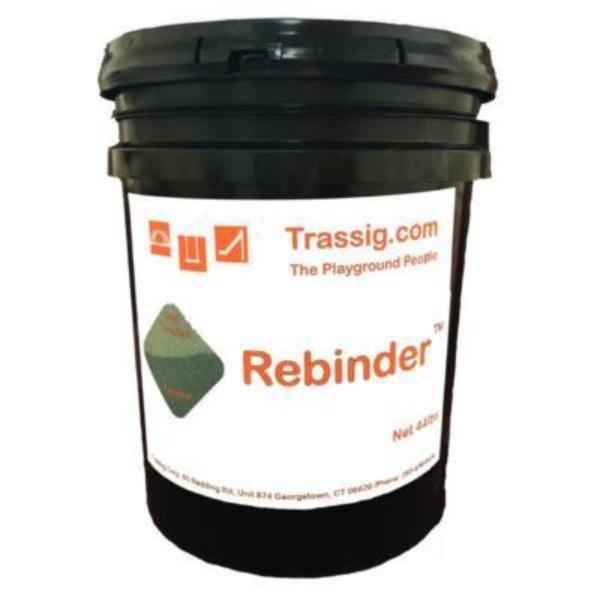 BUY NOW
($480.00 – 30 cents per SF)